In the previous sections you added single Analyses for each Sample, which can become difficult to manage when you have numerous Analysis Services in the system. Also some labs provide package prices on tests that encompass several Analyses instead of pricing them individually.
This is where Analysis Profiles come in and simplify the handling and creation process of new created Samples. Think of Analysis Profiles like a "Recipe" or a "Makefile" that defines the Analyses to be added to a Sample.
Add global Analysis Profiles

Analysis Profiles can be added globally for the whole LIMS or per Client. Here we are going to add one that is available globally.

Click on the ⚙️button in the upper right corner and choose the Analysis Profiles tile and press then the Add Button.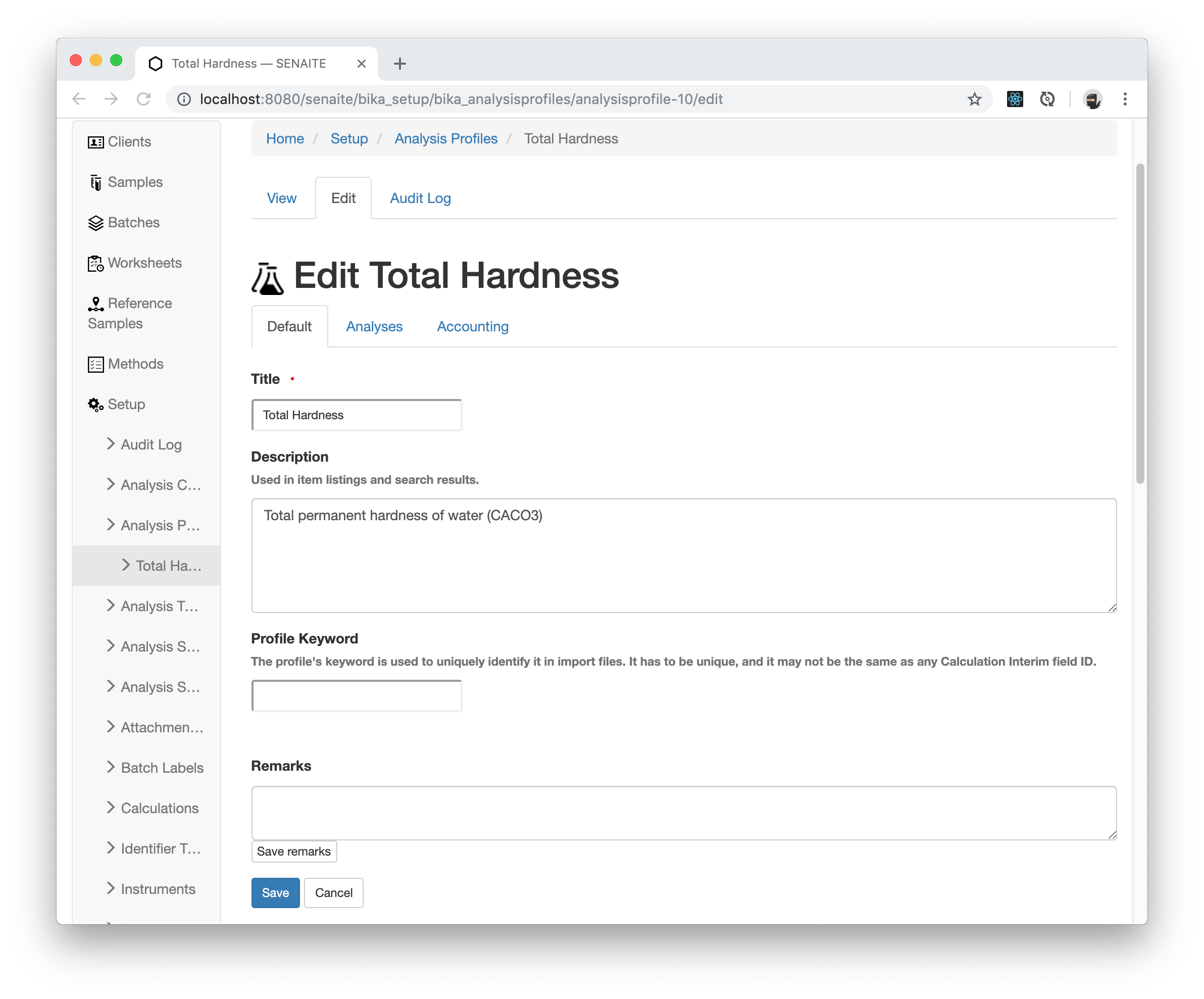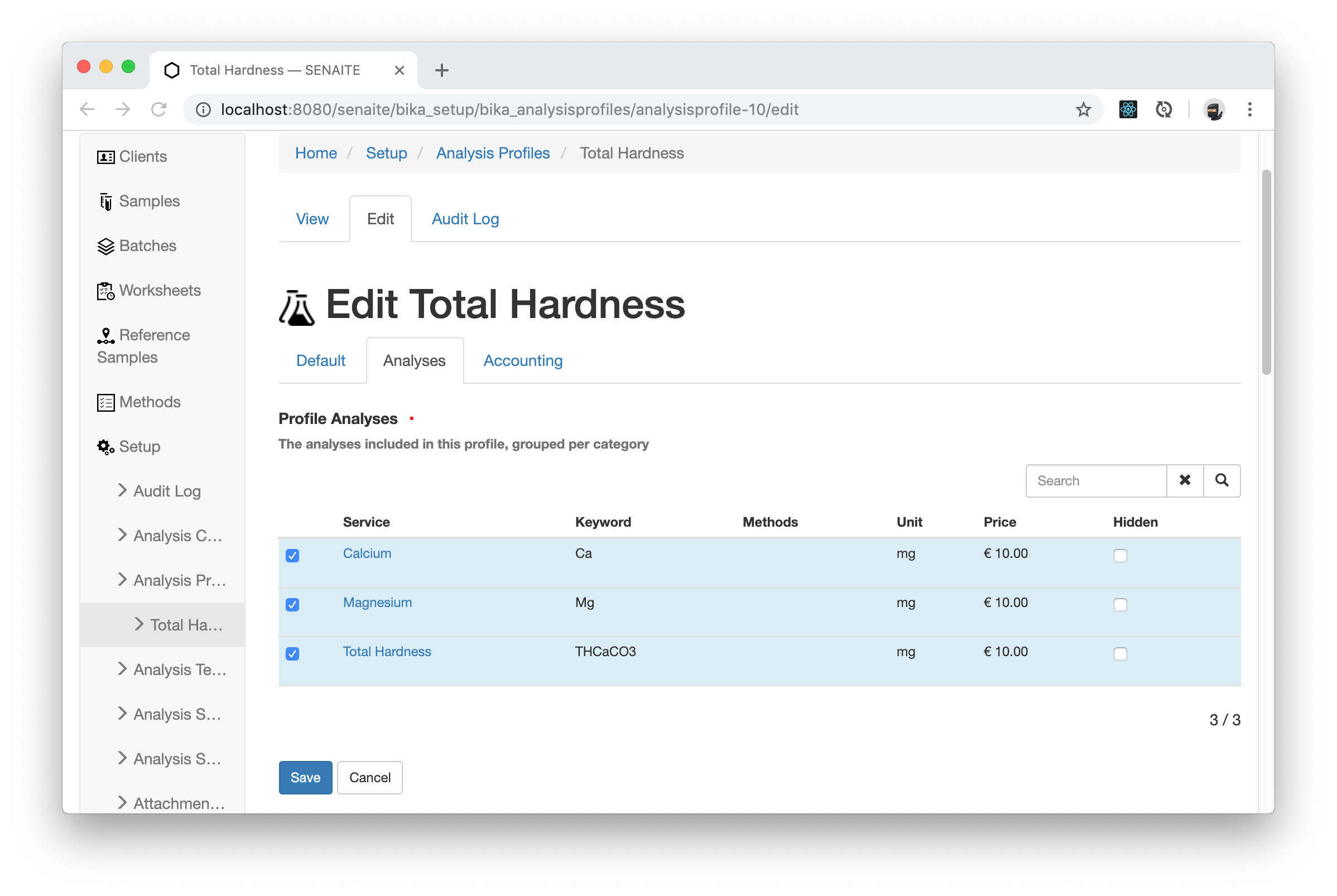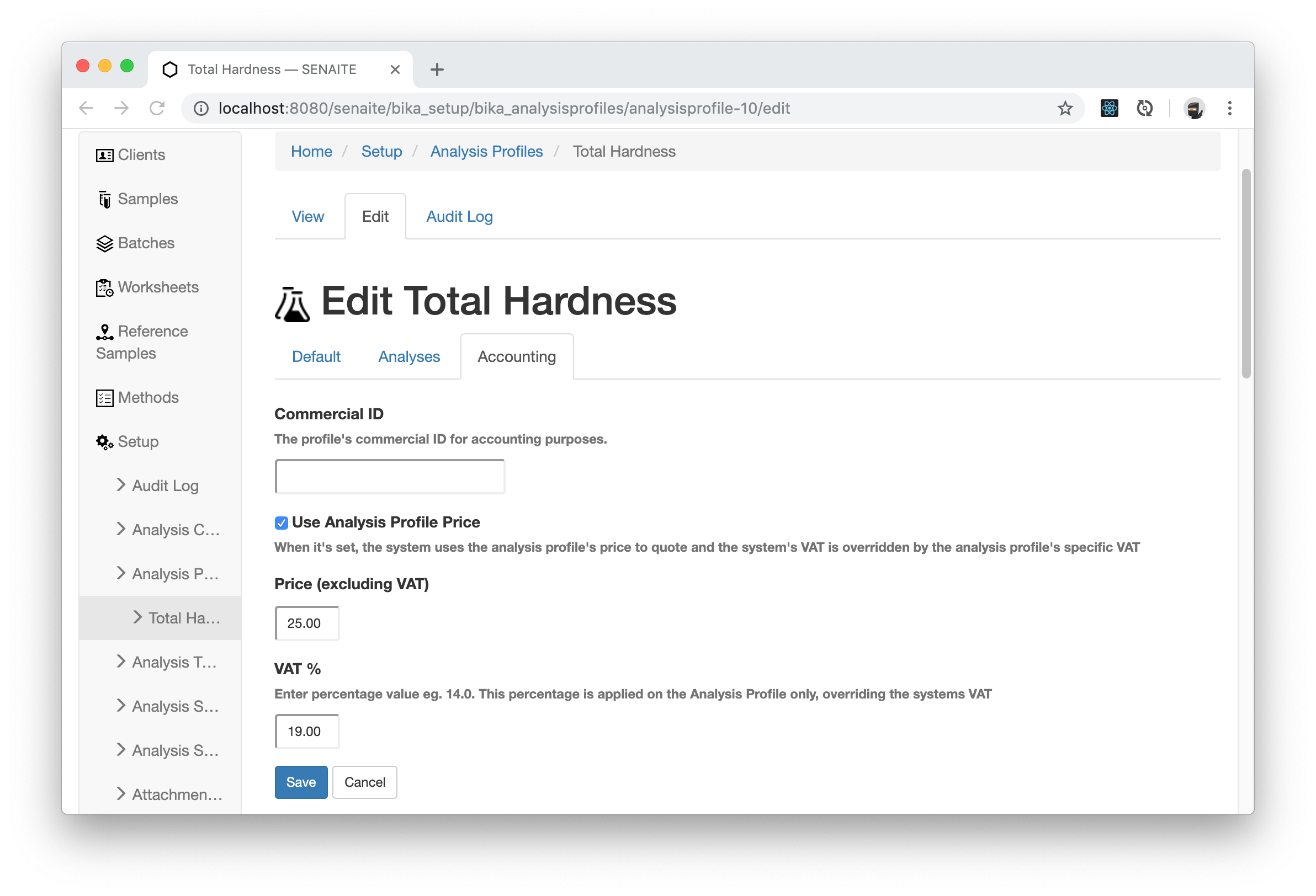 Enter the following values in the add form:
Title: Total Hardness
Description: Total permanent hardness of water (CACO3)
Analyses: Activate Calcium, Magnesium and Total Hardness from the listing
Accounting: Activate Use Analysis Profile Price
Price (excluding VAT): 25
VAT %: 19
Apply an Analysis Profile to a Sample

Now it is time to apply the Analysis Profile to a Sample. Navigate to the Samples tab of our Happy Hills Client and create a new Sample.

Add the new created Analysis Profile in the corresponding field.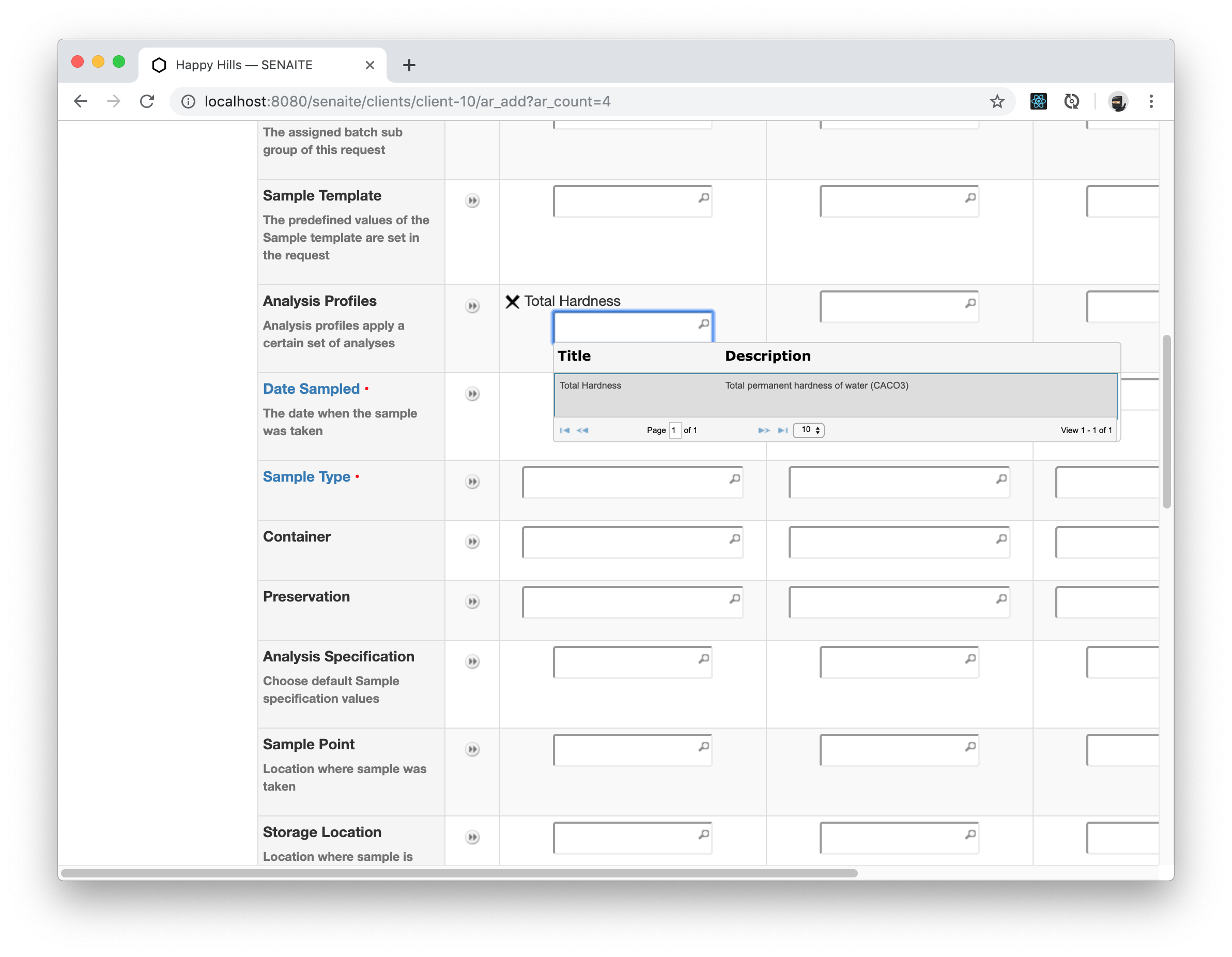 Scroll now down to the Lab Analyses row and click it to expand the selected Analyses. The Analyses from our previously created Analysis Profile were selected automatically and clicking on the 🛈 Button will show you that their origin is the Total Hardness profile.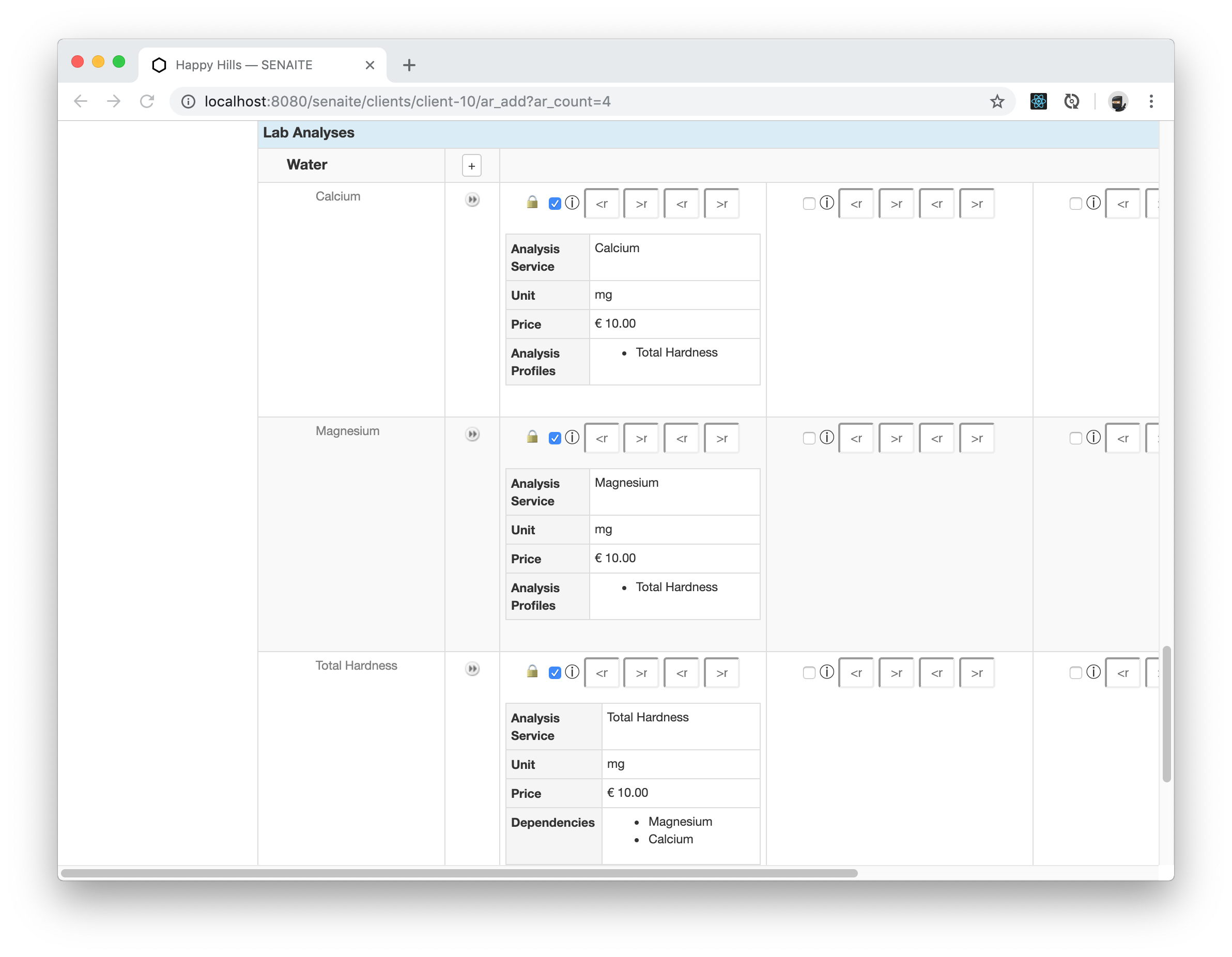 ☝️Note: Analyses coming from an Analysis Profile cannot be deselected and are therefore locked (symbolized with the 🔒 icon). Removing them would require to remove the corresponding Analysis Profile first.
Also note that the price has been taken from the profile and that you can add as many profiles for a given sample as you like.

Add now the remaining required fields and press the Save button when you are done.
Navigate now to the new created Sample View to inspect the Sample Metadata.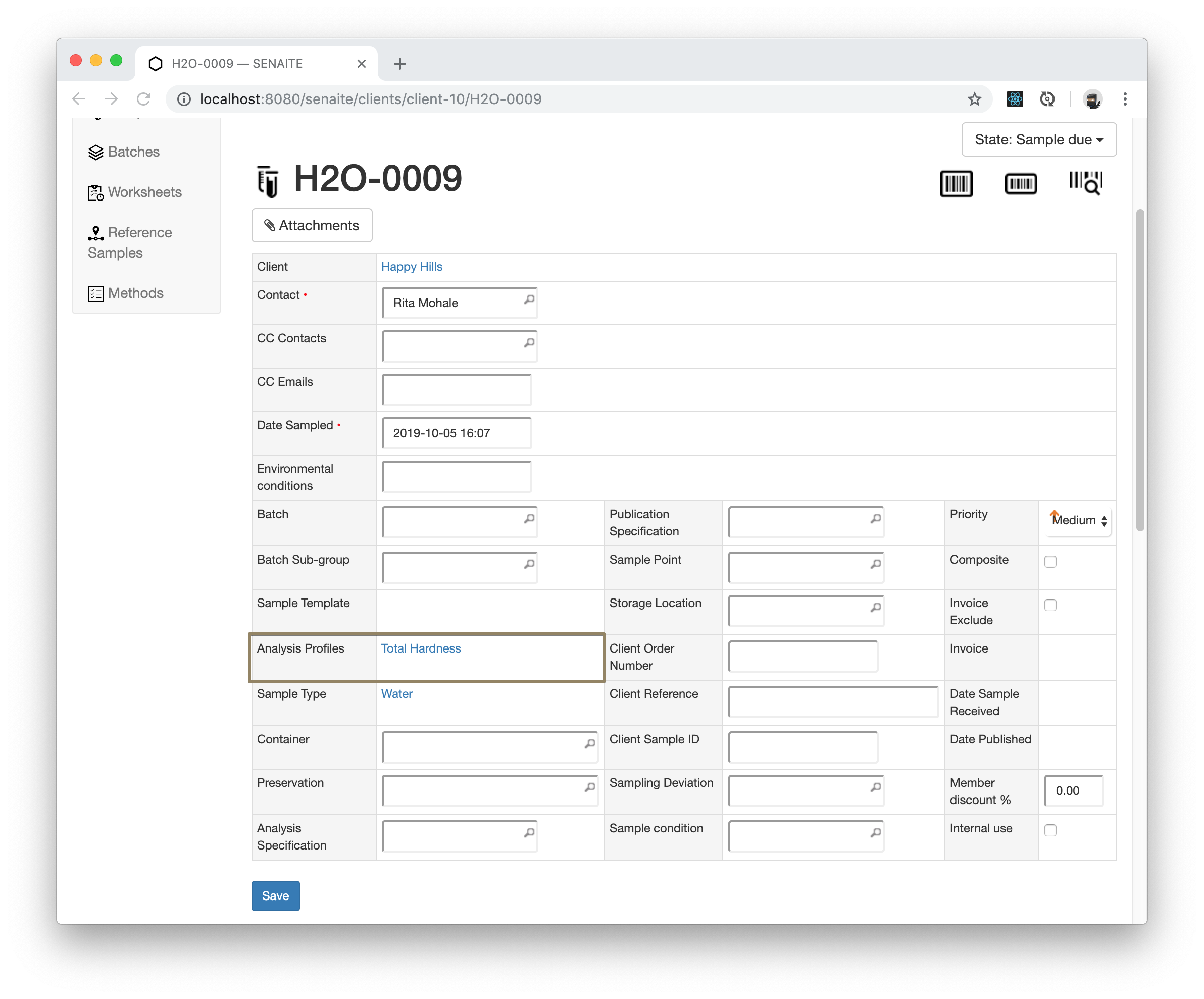 ☝️Note: Although most of the Sample fields can be modified after creation, Analysis Profiles can not. Therefore, if an Analysis Profile has been erroneous added, the whole Sample has to be cancelled and recreated with the right Profile(s).
Congratulations 🙌 you successfully learned the advantages of using Analysis Profiles